We have been to "The Smoke" now 5 times since we were curious about it… It is by far my whole families fav. Too!! When they come from out of town we are happy to make the Trek from Barrie… Definitely the greeter, servers, manager, owner and cooks are trying to create a special experience.. They are very personable and we enjoy their style! The food has all been ridiculously amazing from taste to presentation.. Thank you Smoke staff … We are hooked !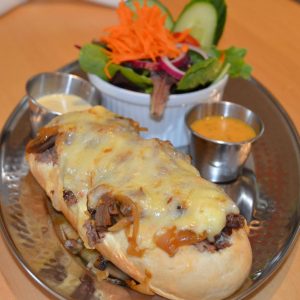 We stopped in here after we noticed it driving by. Super glad we did. The absolute best bbq I think I have ever had! The service was great the food was fantastic. I would move to Collingwood just to eat here often. Bbq heaven in a bun. Can't wait until the next time.
We love this place!!! The food is incredible! Great job!
I took my mom here for mother's day, and the reason I chose The Smoke was because of all the gluten free options! She is allergic to gluten and has a very hard time eating out because almost NO ONE in town offers gluten free; and if they do, it's one crappy little fake gluten free dish that you know they only added to say that they are "gluten free". But after looking everywhere, I came across The Smoke's menu and was super excited to eat there. We both enjoyed our meals (I had the poutine burger and beans and she had the gluten free brisket poutine with the bernaise sauce), and they even gave my mom a rose! Overall a really good experience, and I would like to eat there again.