TAKING BBQ TO A NEW LEVEL
We offer your traditional award winning BBQ, such as smoked ribs, beef brisket and pulled pork. We also have our smoked trout, smoked balls of meat, smoked burgers, Montreal smoked meat, smoked portobella mushroom burger, wild boar bacon, smoked banana ice cream and so much more! All of our food is made from scratch, from Chef Cam's recipes.
We also have gluten free buns, and are using gluten free Worcestershire in all sauces and recipes. This gives those with celiac or gluten intolerance a lot more options at TheSmoke! We are also Nut Free. So if you or a family member is allergic to nuts, you can dine with confidence at TheSmoke.
Located on First Street, Collingwood and 3560 Major Mackenzie Drive West in Vaughan. In Collingwood, you can dine indoors in our 82 seat licenced restaurant, outdoors on our 28 seat patio and in Vaughan, dine indoors in our 174 licenced restaurant or our 36 seat patio. Take a look at our menu, some photos of our food, or better yet, come in for lunch or dinner. You won't be disappointed.
We even have Take Home options. Purchase from our refrigerated display cases our Smoked Trout, Salmon, Smoked bacon, ribs and more, fully cooked with re-heating instructions to take home.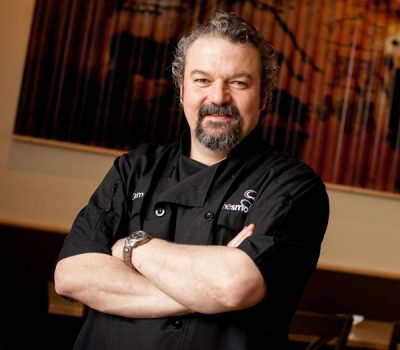 Cam Dyment
For Cam Dyment, barbequing as a hobby turned into a passion when he discovered the Traeger smoker. He followed his passion in opening TheSmoke Restaurant at 498 First
Shawn Chartrand
Shawn has been our Front House Manager at the Collingwood location since we opened our doors in December 2012. His love of food & drink, combined with his
JOIN OUR TEAM
We are currently looking to fill the following positions in:
Collingwood:
Full Time Line and Prep Cook
Full Time Server/Bartender
Full Time/Part Time Dishwasher
Vaughan:
Full Time Line and Prep Cooks
Full Time Server/Bartender
Full Time/Part Time Dishwasher
Please send in your Resume, with Cover Letter Outlining the Position you are seeking to our email address found on the right, or come in and drop it off between Lunch and Dinner Service.